By now, most of the world knows of Snapchat's latest update fiasco—paired with the power held by influencers who dominate the platform. If not—here is a quick recap; after a total redesign of the app as a strategic move to gain more revenue from their advertisers backfired, Snapchat lost 6% of their stock market value.
The reason being for the harsh backlash? Its consumers, and influencers, specifically Kylie Jenner a.k.a kylizzlemynizzle per her Snapchat handle, were not satisfied (understatement) with how the redesign changed their feed from displaying select friends and influencers to a Buzzfeed-esque feed, filled with corporate brands and celebrities. Although the social app is supposedly working on addressing and implementing the feedback, conveniently after Kylie's infamous tweet, and a GoFundMe petition signed by over 1.2 million people (and they say social media doesn't promote social change).
So, what can we deduce from this major fudge-up? When it comes to B2C products, NEVER forget to put the consumer first. Fortunately for us, and unfortunately for Snapchat, due to Snapchat's expansive user base, the app can now act as the perfect case study when answering the question: should you cater to the potential Ad buyers or to your loyal consumers? Seems like a no-brainer, as marketing basics could have saved Snapchat from this sticky situation. Keep reading to learn what could have been implemented to prevent such a disaster, according to a digital marketing agency.
An overarching lesson before we dive in: when it comes to redesign—especially in regards to major changes—it can't be undone, and it will NEVER be forgotten.
What steps could have been taken before pulling the trigger?
Old-Fashioned Prep
Although old school, focus groups, or for the millennial audience that can't be bothered, Google surveys are a great tool when it comes to getting a sense of what your consumer may think of an updated version of a familiar product. Gain helpful feedback from users, understand what is important to them, how they use the product and what they would like to see in a redesign. When consumers realize that you care about their opinion they become open, honest, and cooperative to help find a compromise between their wants and the company's needs. This could have been a huge time and money saver for Snapchat. Though any publicity is good publicity at the moment, a long-standing reputation among your core base is what separates good companies from the great ones. Side note: did Kendall Jenner's Pepsi commercial teach us nothing?! Focus groups matter.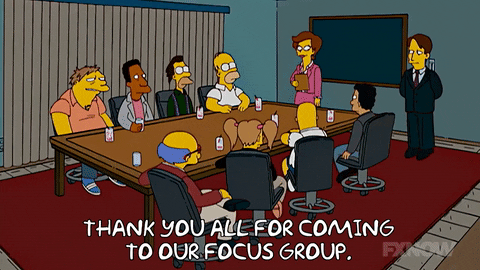 Commitment to Loyal Consumers
Consumers constantly need to be reassured, and since they are already hooked on a product and buy into it like a lifestyle, why not show your appreciation in some kind of way. Some great examples of how to show appreciation—that works well within tech platforms—include offering legitimate giveaways and discounts aided by partners and sponsorships. Facebook creates videos to share milestones, and even send personalized messages or filters on birthdays to show you care. If you can get the consumer to buy into your product and thus your brand,  they can potentially be loyal for life. So, when it comes time to make changes, consumers will ideally be less resistant, or less likely converted to competitor platforms.
Don't Be So Dramatic
We get it, it's a business and the point of a business is to grow and gain higher profit margins. However, there is a fine line between helping the business and hurting the consumer. In Snapchat's case, it was hard to see where the consumer fit in within the update, although Snapchat maintains their claim that it made it easier for the user. Any dramatic change is hard for daily users to cope with, baby steps show that you care about them in the process of improvement. Think in terms of tangible change i.e. construction zones and how they strategize to accommodate daily commuters. Although you can't make everyone happy, at least an effort in trying to do so, speaks volumes. Snapchat heard loud and clear from their users of their disapproval of the changes and are now creating an update that will have tabs to separate family and friends' feeds from paid brand feeds in response. Gradual changes could have saved the drama—well, for anyone else.
When looking to update the tech side of your business, don't forget about the consumer. Consult and work with a knowledgeable digital marketing company like Marketing Supply  Co. to evaluate the best strategy in scaling your business. This way, you can focus on the important things like improving your product, and your product margins accordingly!